Subject: 
Psychology and Educational Sciences
Critical digital literacy
Texts and teaching resources supporting teachers in developing critical digital literacies. The guide has been produced in the context of the DETECT Project with the collaboration of Edul@b researchers (Juliana E. Raffaghelli, Teresa Romeu, Marc Romero Carbonell, Dèlia Español), Minna Lakkala (University of Helsinki, Finland) Alice Rolfi (University of Florence, Italy) and Anastasia Gouseti (University of Hull, UK)

Presentation
Increased access to digital technologies and social media has created new opportunities as well as challenges for education – and raised questions in relation to educators' digital literacies.
Enhancing teachers' critical disposition and critical digital literacies is significant. These competences are transferable across digital contexts and, therefore more relevant to the fast-paced realities of everyday digital practices.
The activities, courses and materials it includes aim to help primary and secondary school teachers make informed decisions by enabling them to weigh the tech's pros and cons and then convey them to their students.
The content has been chosen using the DETECT project's digital literacy framework, a roadmap featuring the eight key dimensions that need to be taken into account for a critical focus on technologies, which range from data literacies to digital well-being and safety.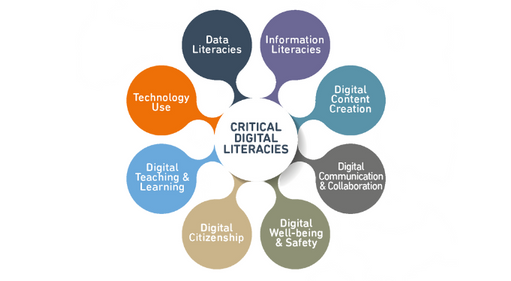 What do we mean by Critical Digital Literacy?
Whenever we interact with technologies, there is an exciting side - something that requires our curiosity, enthusiasm and that helps us develop technical knowledge. Nonetheless, there are important critical issues which generate risks and require careful consideration, awareness, reflection, and action.
A Critical Digital Literacy framework
link opens in a new window
The first report of the DETECT project. The report presents the Critical Digital Literacies framework that has been created as part of the project's Intellectual Output 1. You can use the framework as a starting point, to get informed and get "the big picture" on what critical digital literacies are needed according to the research.
CDL-D1: Technology Use
Digital competence can be regarded as a critical prerequisite for broader competence of critical digital literacy, but some basic technical skills are not sufficient.
CDL-D2: Data Literacies
Data literacy relates to an intertwined set of skills including not only techniques for processing data, but also the ability to analyse data as a social and cultural phenomenon with implications for our personal lives.
At the school level, a critical perspective on data it is important to go beyond students' understanding and practice related to producing data such as considering the beneficial potential of data for democracy and social innovation when shared as open, public knowledge; critically interpreting the graphs and numbers used in informational contexts; understanding how personal data and data shared through social media.
CDL-D3: Information Literacies
Information literacies are essential because information is a critical topic when we talk about the internet, social media, fake news and information overload in our new media landscape. In particular, information literacy can refer to the ability to locate and evaluate information, think critically about how it has been created, and understand how it can be used to create new knowledge.
CDL-D4: Digital Content Creation
Being creators of content and digital environments, modifying them, integrating some content into others, making graphic designs, producing objects through technologies and even having notions of programming allows us to develop our creative side, find new forms of expression and be participants in the evolution of the digital world.
Content creation can take place individually or collaboratively with others. The basic practices involved in creating all kinds of materials such as reports, videos, and pictures digitally are familiar to everyone and are also common activities in schools, but they require critical appraisal at each step of the creative process.
CDL-D5: Digital Communication and Collaboration
Thanks to technology, we can interact with people and communicate without meeting in a physical space or at the same time. We can collaborate with other people, undertake projects and create team resources in a digital environment. Participating in this environment implies being able to express ourselves, giving our opinion and being able to get involved in social, cultural, economic and political issues - in short, taking part in the digital society.
CDL-D6: Digital Well-Being and Safety
Digital well-being and safety relates to the areas and issues presented which impact broadly on the individual and groups of users. In school-based contexts, these are important to consider to ensure that we are safeguarding our children from the harm which can arise in digital environments.
With the constantly expanding use of digital technologies, this dimension is critical to develop and explore with young people, so that they develop mechanisms to support their responses to the issues that this area presents.
CDL-D7: Digital Citizenship
Digital Citizenship refers to a range of areas which require individuals to think critically about how they engage responsibly within societal spaces, including engagements with communities, with organisations and with government institutions. Guiding effective participation within societal spaces is something which we need to introduce to learners at all levels, with schools and colleges providing effective environments within which to teach responsible physical and digital citizenship.
CDL-D8: Digital Teaching and Learning
Teachers and learners need to develop the ability to select, use and evaluate the digital technologies which they use specifically in educational contexts. Digital pedagogical methods might foster students' learning, indeed. Moreover, digital environments and tools are today pervasive to all teaching and learning activities, and as such it is impossible to avoid a critical engagement with them. Technological breakthroughs also have implications for everyone involved in education, like it is the case of considering advanced approaches to data usage, including learning analytics to improve teaching and professional development from an ecological perspective. Nonetheless, these technological innovations require ethical reflections and inclusion in the design and implementation of educational interventions.