Test yourself: a quiz with 3D images for learning anatomy
Subject: 
Health Sciences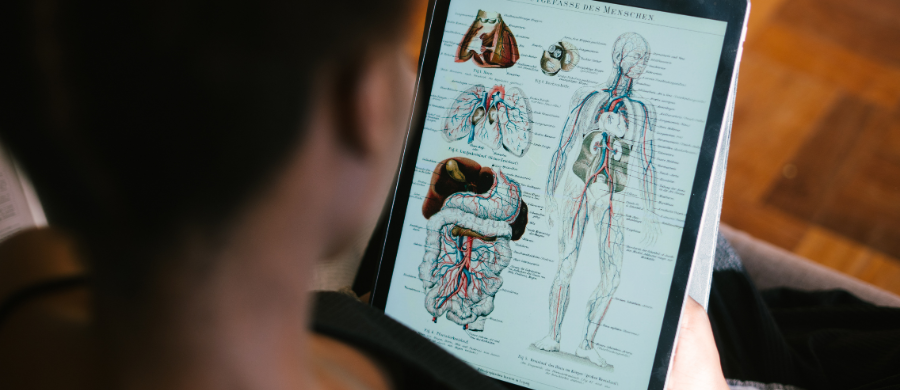 09/06/23
Choose the level of difficulty and anatomical structure, and start answering the questions
You can do the test online or download an app to your mobile phone or tablet
Primal Pictures is an atlas of human anatomy, with 3D and 360° images that health sciences students on some courses use as a learning resource. The entire university community can access it through the UOC Library to learn the basic concepts of anatomy and physiology of the human body.
One of the features offered by Primal Pictures is a quiz with which you can answer questions about anatomy related to a specific part of the body (head, torso, upper and lower limbs) or the whole body.
You can customize the test to suit yourself, adapting the level of difficulty and the number of questions, and selecting the musculoskeletal system to test yourself. You can enlarge and overlay 3D images of anatomical structures at any time to examine them from different angles and perspectives.
There are two types of questions:
Where is it? With this type of question you have to give the location of the bone, muscle, ligament, nerve, etc. mentioned.
What is it? A highlighted item will be displayed and you have to say what it is.
How to access?
You can access the test online, or download the app for mobile devices from Google Play or the App Store.
If you want to use the app, remember that the Library is subscribed to the Primal Pictures platform. To access the full content through the app, you will have to proceed as follows:
Access Primal Pictures from the Library using your mobile device or tablet

Select the Quizzing option.

Click the appropriate install button for your operating system.

After installing the app, go back to the Primal Pictures website and click again on the Quizzing option.

Open the tool by clicking on the Launch the app button.
From now on, you'll see the Library's full subscription content every time you enter the app.
Primal Pictures
Primal Pictures is a useful tool for learning anatomy and physiology in an interactive and entertaining way, both inside and outside the classroom. It may be particularly useful for studying courses related to neuroscience, psychobiology and neuropsychology, and speech and language disorders.
You will need the Universitat Oberta de Catalunya (UOC) Virtual Campus login details to enter this resource.
If you have any questions about this platform, send them to The Library Replies.