Our learning resources are ready for the start of the new academic year!
Subject: 
Multidisciplinary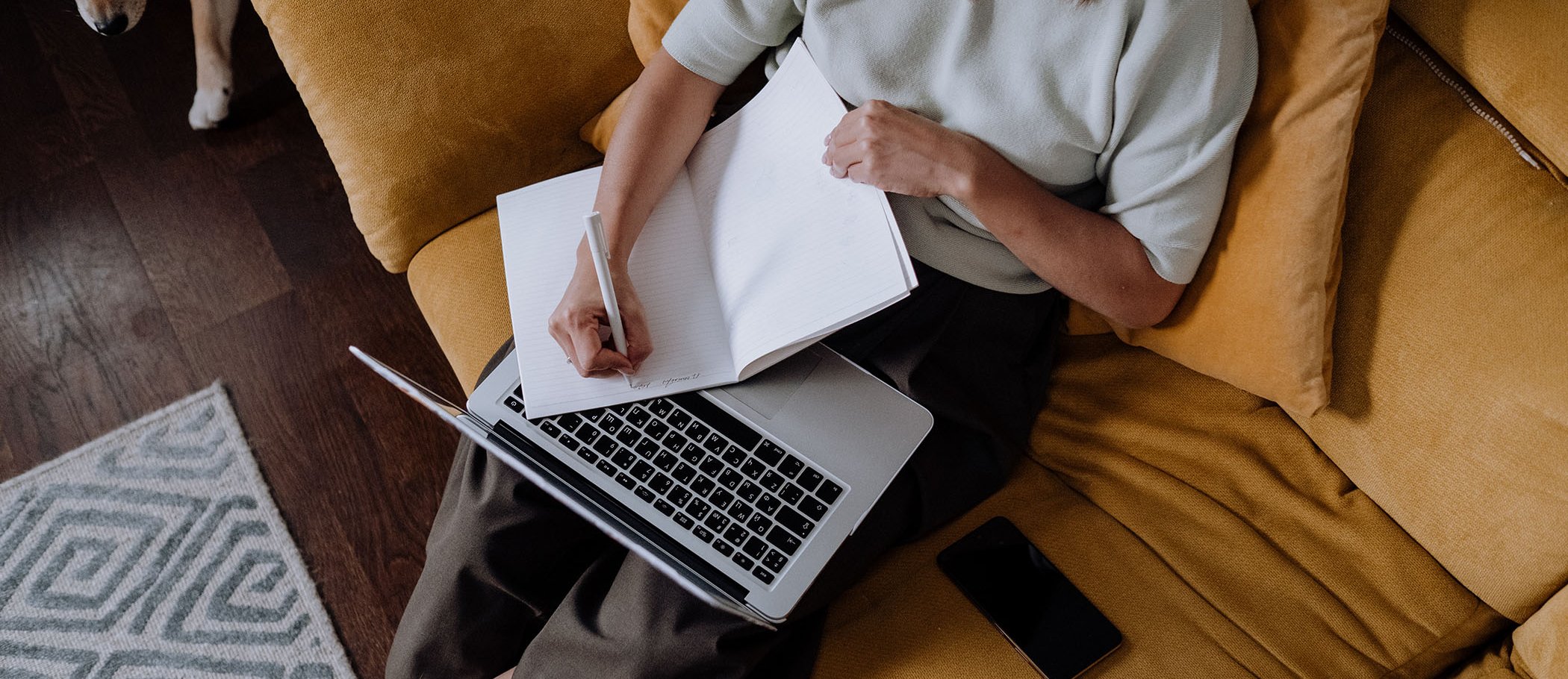 15/09/20
In your classrooms you will find content tailor-made by the UOC for a range of courses this semester, including videos and infographics.
The academic year will kick off on Wednesday 16 September with more than 17,189 e-resources created by the University. With teaching staff at the helm, every semester a team of experts develops learning resources that enable you to complete your assessment activities and acquire the competencies tied to each of your courses.
With each passing semester UOC staff create and update hundreds of resources. Featured below are just a few of the many that you will have at your disposal this semester:
Content repositories
Students on the Bachelor's Degree in Social Sciences have access to a repository of content ranging anywhere from documentaries and interviews to educational videos, podcasts and animations, all to maximize their performance on their final projects. In this one-stop shop they can browse through all the material they need to understand the changes our complex society is going through.
The same type of resource is also used for the Contexts and Systems of Art course on the Bachelor's Degree in Art. These two open access websites exist to help students see that artistic production is always the product of interaction among different stakeholders.
Sociology of art cases: according to its coordinating professor, Aida Sánchez, this resource offers a collection of real-life examples featuring different artistic phenomena and practices. It contains information about Frida Kahlo's life as a painter, for example, as well as details on the self-destructing Banksy piece that shred itself to pieces after being auctioned off at Sotheby's, a London-based auction house.
Sociology of art term glossary: this resource was tailor-made to make up for "the lack of glossaries specifically focused on the sociology of art and designed with art students in mind," Sánchez explained.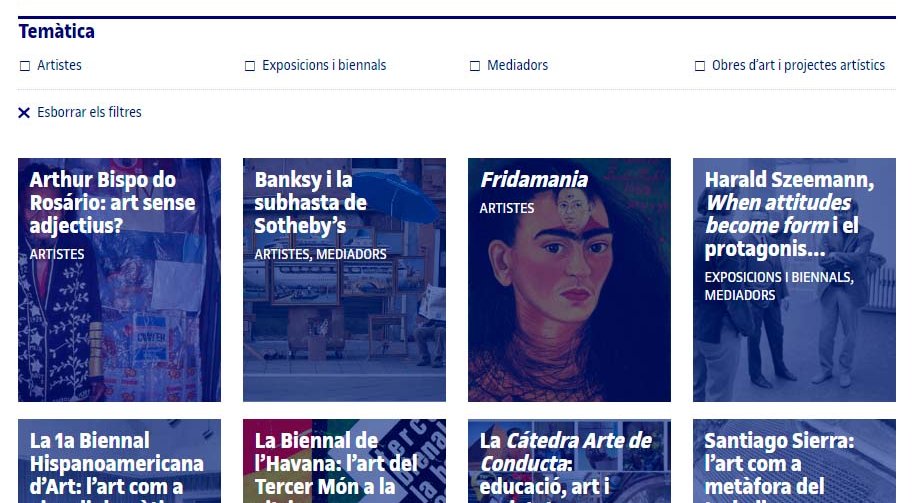 Recordings
For this semester, students on the Bachelor's Degree in Communication will enjoy a range of audiovisual materials made from scratch for their classrooms.
In the Image Culture course, students will learn from a three-way chat about film and comics featuring UOC professor Violeta Kovacsics, film critic Quim Casas and professor of Comic History at Pompeu Fabra University Iván Pintor.
For Journalistic Writing Techniques, new interviews have been held with professionals such as Ana Pardo de Vera, corporate director of the Spanish online newspaper Público; Joan Cañete, deputy director of elperiodico.com; and Carmen Juan, director of Onda Cero's radio programme Julia en la Onda. According to Ana Isabel Bernal, the resource's coordinating professor, "these are first-hand testimonies from people who work at pre-eminent media outlets". She added that, "interviews provide an up close and personal style that help students acquire knowledge in an easily digestible, entertaining way".
A new interview panel about the role of ethics in social, educational and medical social services has been recorded and added to the Applied Ethics in Social Education classroom for the Bachelor's Degree in Social Education. Three field experts took part: Josep Ramos, member of the Catalan Bioethics Committee and the Catalan Social Services Ethics Committee; Begoña Román, Catalan Social Services Ethics Committee chair; and Jesús Vilar, professor at the Pere Tarrés Faculty of Social Education and Social Work at Ramon Llull University.
Modules
Brand-new resources have also been released for the Bachelor's Degree in International Relations. For example, a custom website has been put together for the Human and Physical Geography course, with information on migratory evolution across history, causes and consequences, and a specific section on displacements due to environmental factors. Students enrolled on the course will also be granted access to a new guide for building maps using the latest technologies; in this case, R software.
Infographics
This infographic has been produced for the Stimulating Language in Classrooms and Families course, part of the Bachelor's Degree in Speech and Language Therapy. Its focus is on the Naturalistic developmental behavioural interventions (NDBI) model. Students will find information structured in various blocks, which they can click on to display or conceal the content.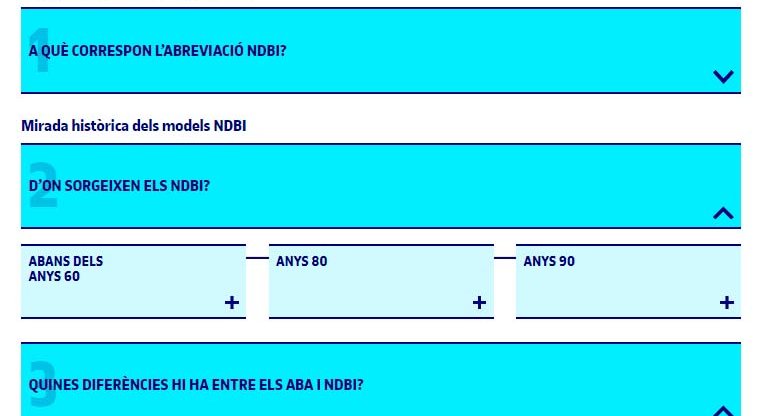 UOC-made resources aside, in your classrooms' Learning resources section there may be copyright-restricted or subscription-based e-books, articles, films or software that are also available for classroom use. For the current semester, 28,700 learning resources of this type have been managed. Some examples:
Some of the films used as classroom learning resources include The Grudge (2004), directed by Takashi Shimizu, in The Fantasy Genre Market; My Life Without Me (2003), directed by Isabel Coixet, in Communication with Patients, Family Members and Partners; I, Daniel Blake (2016), directed by Ken Loach, in Intervention for Equality and Social and Work Inclusion; Campeones (Champions, 2018), directed by Javier Fesser, in New Viewpoints in Educational Psychology; and Persepolis (2007), directed by Marjane Satrapi, in Themes of Contemporary Literature.
In terms of software, the Adobe package offered in some degrees in the Faculty of Computer Science, Multimedia and Telecommunications puts a range of tools such as Photoshop, Illustrator, InDesign and After Effects at students' disposal.
These digital tools allow students to put their knowledge into practice in no-risk environments. The Cesim Global Challenge, for example, is a simulation game that tests students' strategic planning, strategic execution, supply and demand management, and finance skills. Meanwhile, Wasabi-s is an online tourism service marketplace for air travel, hotel booking, car rental, cruise reservation, etc. based on XML technology (booking engines).
How are the resources for my classrooms chosen?
Learning resources are a key part of the University's educational model. Without them, it would not be possible to perform the activities proposed in the classroom. In this video, the people who take part in choosing and creating learning resources tell us a little bit about what they do.