The Library Replies service on the Parenthesis podcast!
Subject: 
Multidisciplinary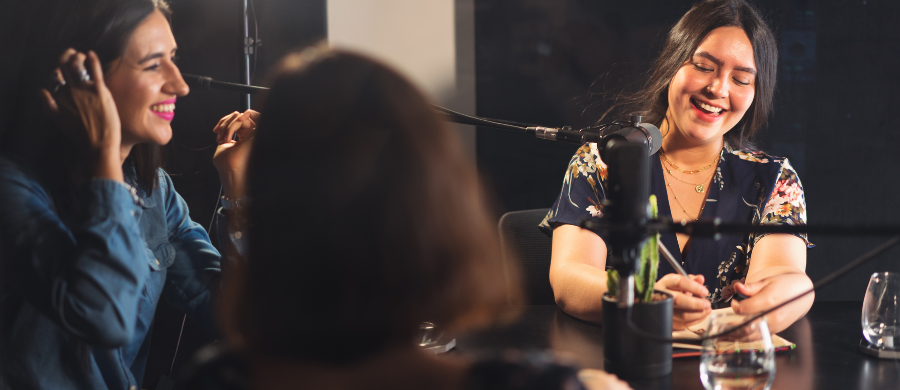 01/02/23
The Parenthesis podcast deals with the latest trends in information and communication: professions, projects and people that inspire.
Its latest episode focuses on the UOC Library as a key service for teaching and learning.
In the latest episode of the Parenthesis podcast from the UOC's Faculty of Information and Communication Sciences, librarian Àgueda Mercadal explains how the UOC Library works and the resources and services it offers to the university community. It was an informal, but in-depth, chat with faculty members Lluc Massaguer, Gemma San Cornelio y Candela Ollé y el profesor Efraín Foglia, de los ECIC.
Listen to the full podcast on Spotify, Ivoox or Apple Podcasts.
The key takeaways
"Bring a librarian into your life": during the episode, Àgueda Mercadal calls on teaching staff and students to make use of the Library's resources and services and to contact the team of librarians to deal with any queries they may have.
Answers to some of the questions posed during the podcast in the Tot Comunica blog.
To kick off, Àgueda reviewed some of the Library's most popular services and web pages.
She talked about resources that may be of interest to Information and Communication Sciences students on the Search the digital collection by field page:
She also shared tips for improving your searches. For example, choose your keywords carefully; make use of the advanced search feature and the databases.
She explained how the Library was created and how it has developed as a tool designed to work in and from the digital domain.
She described what the new Library website is like, who it's aimed at and what was taken into account in its design.
Contact the Library team via The Library Replies service.